Post by fauLLIBle on Mar 13, 2008 2:17:49 GMT
Heres to you, John.
BABY FACE FAUL NOT INNOCENT
Paul McCartney isn't the goody-goody-two-shoes he always portrays himself to be. Paul "the innocent one" is actually the opposite. He's Paul "the guilty one" to be exact. John Lennon said as much in "How do you sleep at night?" and I'd take his word over McCartney's any day.
Actually, when the Beatles moved to London Paul started hanging around with communists and heroin addicts. It was Paul who introduced John to LSD and Yoko Ono* - not necessarily in that order. And it was Paul who put John back together with Yoko after he'd escaped from her to Los Angeles. Yoko had gone running to Paul and Linda's place in London and gave Paul his marching orders. John was returned to the Dragon Lady. I learned this while reading the book PAUL MCCARTNEY MANY YEARS FROM NOW, by his friend and associate Barry Miles.
Then in the days after John was shot, Paul visited Yoko at the Dakota and the two of them drank a toast and shared a laugh. John's blood-splattered glasses were displayed on a table near the window.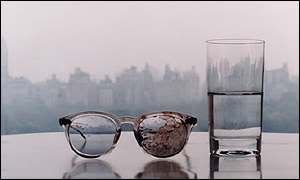 Look at McCartney now. He's a spokesman for One World Government**. He was actually singing a concert to some wealthy elites at the Colliseum in Rome last week [June 2004]. He thinks the bombing of Iraq wasn't necessarily a bad thing.
Anyway, now he's letting us in on one of his secrets. He says that once he sent a song to Frank Sinatra - a born and raised gangster from New York who hung around with top mafia goons from Murder Inc and profited from prostitution and gambling etc - but Sinatra rejected it. The name of the song was "Suicide". hmmm. It would be interesting to hear it and read the words. Maybe Paul will sing it at some future concert. Anything would be an improvement on the words to most of his songs, especially "Yesterday" and "Michelle, mon belle" or whatever. ~ Jackie Jura
PS - Hard to tell Paul wasn't my favourite Beatle. John was my favourite Beatle and also one of my favourite people.
PPS - See JOHN WINSTON LENNON SMITH
--------------------------------------------------------------------------------
Reader describes how Yoko got John back from May Pang
Reader likes the new "Imagine" lyrics but says Paul wasn't in cahoots with Yoko
On December 8th, 2005 - the 25th anniversary of the assassination of John Lennon - the coverage of the event in one of Canada's national newspapers, the National Post, consisted of a two-foot by 1-foot full page picture of Yoko Ono's display of John Lennon's blood-spattered glasses. I was shocked when I turned the page and came across this cruel visage and wondered why the space hadn't been taken up with pictures and stories of John Lennon. Ideally I'd have liked to have seen a chronological list of the Beatles songs, along with photos of them and the albums. That would have been informative, interesting and would also have provided a trip down memory lane for people who experienced Beatlemania. ~ Jackie Jura
McCartney kept grief in closet. Ottawa Sun, Dec 8, 2005
After John Lennon was shot, a grieving world wanted -- indeed, needed -- to see Paul McCartney, with a wrenched heart, struggling to cope with the sudden loss of his dear friend. Like the rest of us. But pretty much the opposite transpired. Caught by a camera crew leaving a London recording studio a day after Lennon's murder in New York City, McCartney said with all matter-of-factness: "It's a drag." No emotion. No "I can't believe my best mate is gone." No sign of love behind the missing tears. Just: "It's a drag." If millions of people worldwide found themselves sobbing, unable to come to grips with the tragedy, how was it McCartney --Lennon's soulmate for more than a decade -- could be so seemingly cold and unaffected? His reaction still outrages many Beatles fans.
IMAGINE THERE'S NO YOKO
Yoko chose mistress for John (later married Paul's producer). London Times, July 24, 2005
In Broadway musical about the life of John Lennon "There is too much Yoko telling John, 'I told you so'. It makes you think Yoko really did break up the Beatles."...
LENNON'S DARK FATE ONO (new book by long-time associate). Globe & Mail, May 22, 2005
**He's even wearing the UN colour blue in his most recent concert in the USSR: billy plays St Petersburg (did encore carrying Russian flag & Putin phoned on birthday). BBC, Jun 20, 2004. Go to 10.Rulers & MOSCOW MUSIC
McCartney's wife in WHO's ads (& that's not "who's on first"). BBC, Apr 8, 2004. Go to 2.Big Brother & 27.Goodthink & WHO'S BEHIND ROAD CONTROL
McCartney serenades Putin (says he's really nice guy). CNN, May 25, 2003
Paul McCartney became the first Beatle to sing inside the Kremlin walls on Saturday, treating President Vladimir Putin to an impromptu version of "Let it Be" before singing to thousands of Russians on Red Square. McCartney met Putin in the Kremlin for tea and a guided tour, hours before the first Russian show in the musician's 40-year career. "Putin seemed to be a really nice guy," McCartney told hundreds of reporters in the square. "I sang him a song--he couldn't come to the concert tonight." He said later he had sung "Let it Be." Ahead of Saturday's open-air show a group of nationalist Russian deputies objected to plans to stage a pop concert metres from the graves of Soviet leaders Lenin, Stalin and dozens of other communist-era heavy weights. Thousands flocked to the concert. Tickets sold for hundreds of dollars in a country where monthly wages are below $100. McCartney, thronged by fans since arriving in Russia, said he would treat 20,000 spectators to three hours of hits, including "Back in the USSR". Strolling through the Kremlin grounds, McCartney said his trip to Russia had dispelled many notions he had held, including what he might have thought when he wrote that song. "I didn't know anything about it then," he said. "It was a mystical land then. It's nice to see the reality. I always suspected that people had big hearts. Now I know that's true."
Harry Potter elf like Putin ("misuse" of image of president). ThisIsLondon, Jan 28, 2003
MOSCOW MUSIC
Sinatra rejected Paul's song. BreakingNews.ie, May 17, 2003
McCartney told the Virgin Radio Superstars show to be aired tomorrow: "I once sent Frank Sinatra a song called Suicide. I thought it was quite a good one – but apparently he thought I was taking the mickey out of him and he rejected it."
PLAYBOY'S JFK and THE ENEMY WITHIN and UNDER-WORLD SURFACING
McCartney earns rich list title. BBC, Mar 6, 2003
billy made more money than any other celebrity in 2002, making 120 million pounds, according to a rich list...His total fortune was estimated at more than $1-billion (620 million pounds) by People
billy'S WIFE A LADY?
JOHN'S DAKOTA HOME OF ROSEMARY'S BABY The Dakota Building on Manhattan's Upper West Side was renamed The Bramford for the 1968 film Rosemary's Baby. It was on the set of this film that Mia Farrow received divorce papers from then-husband Frank Sinatra. There is a popular rumor that Church of Satan founder Anton LaVey gave technical advice and portrayed Satan in the impregnation scene. This is false - LaVey had no involvement with the film. Directed by Roman Polanski, whose pregnant wife, the actress Sharon Tate, was in 1969 murdered by Charles Manson and his followers, who titled their death spree "Helter Skelter" after the 1968 song by The Beatles, whose leader, John Lennon, who would one day live (and in 1980 be murdered) in the Manhattan apartment building called The Dakota - where Rosemary's Baby had been filmed...
JOHN LENNON'S HOMES (John was introduced to Yoko by John Dunbar on the 9th November 1966 at the Indica Gallery at 6 Mason's Yard, off Duke Street...)
* 1967 was the year in which Yoko Ono first hit the headlines in Britain with her Film No.4, commonly known as "Bottoms", which was produced by her then husband Anthony Cox. Yoko had asked 364 people associated with the swinging London scene to expose their backsides for the camera. She had, in fact, made an earlier version in 1965 while in New York, featuring a mere dozen bottoms. Yoko had begun making minimalist films in New York as a member of a group of conceptual artists called Fluxus. In 1965 she exhibited the first revision of Film No.4 at the Fluxus film festival, in addition to another five-minute short entitled simply Number One which featured a slow-motion sequence of a match being struck.
Around this same period Yoko was given a part in in a sleazy adults-only S+M drug movie Satan's bed by Roberta and Michael Findlay (SNUFF). Michael was the photographer and editor and Roberta acted and did the lighting. Satan's bed is really an updated version of an earlier unfinished feature called Judas City by "Tamijian" with the new footage and characters edited in. Yoko (in a kimono) shows up in New York to marry Paulie, who wants out of the drug business. She can't speak English and he's preoccupied, so she's taken to a filthy cheap hotel room. A gangster (in the concrete business) rapes her on the floor (off screen). He takes her to his penthouse and rapes her again. Interwoven with this Judas City footage is the sick tale of Snake, Dip and Angel, addicts in black clothes, who look like part of Andy Warhol's Exploding Plastic Inevitable show - they roam around tying up women (Angel helps), and raping them. Finally a Long Island housewife with a gun escapes from the doped up trio and footage of Yoko escaping is intercut. Satan's bed was released about the same time as the Beatles Help!
Jackie Jura
~ an independent researcher monitoring local, national and international events ~
www.orwelltoday.com